ACTION ALERT
April 26th 7pm via Webex: council to debate defunding CCPD again
Five ways to make yourself heard:
Register to speak at the April 26th council meeting. Click this link and click the "register" link at the upper left, and fill out your information. Ask to speak on item A-2. Then check for an e-mail with the link to join.
File an eComment online on this item.
Contact the councilmembers. Let them know how you feel. They are generally responsive.
E-mail public.comment@culvercity.org and refer to this topic.
Contact us if you know someone without a computer who wants to speak. Get us their name and number, and we'll have omeone call them. Or contact the city clerk at 310-253-5851.
Last year, City Council discussed whether to defund our police department by 50%, with the aim of abolishing it. Click Here for the latest council meetings and action plans
Several candidates in last election have called for the defunding of our police department by 50% or more. Fortunately, only one of them was elected – Yasmine Imani-McMorrin. That still leaves her and Vice-Mayor Lee as stout defunding advocates. Councilmen Eriksson and Vera are both opposed to such drastic cuts. Mayor Fisch is the wild-card, saying he wants whatever changes Council makes to "survive future Councils."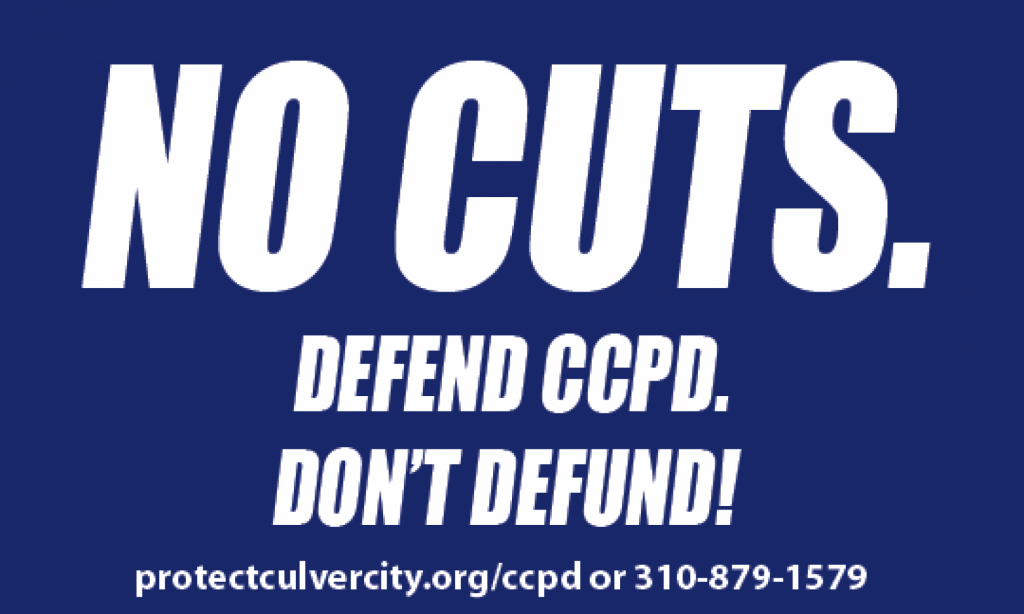 The defunders are actively pressuring all councilmembers to go along with defunding CCPD. They need to hear our support. Culver City residents need to stand up and fight for our police department this election, or we will lose it.
The process began on June 15th, when a loud, organized minority with ties to councilmembers dominated the early comments of the meeting. They demanded council cut our police department budget by 20% or more. They were motivated by recent calls to "defund the police" in the wake of George Floyd's death.
"Defunding" is exactly what it means – taking funds away from our police department, with an intent to abolish it.
This "debate" was never agendized and few residents had any idea this was happening. Council barely rejected their initial demands on June 15th for an immediate 20% cut by a narrow 3-2 vote. Such drastic cuts would have taken place as soon as July 1st – leaving our police department unable to do its heroic work during the riots of May 30th and 31st.
In response, this same organized minority made a new demand – a 50% cut to CCPD within three months, which they presented at he June 22nd meeting. Council agreed to establish a task force to explore this. They at least agreed to keep this task force limited to city staff and not subject to outside control. But this debate is far from over. And few residents still have any idea this is happening.
Our police are what keeps our neighorhoods safe, and we can no longer take them for granted. That's why we need your help to "Defend Don't Defund" Culver City Police Department. We need you to post a yard sign, distribute flyers, alert your neighbors. People need to understand the radical changes this group is pushing on our city, and how entrenched they are in various boards and commissions.
Our police department enjoys a 78% approval rating. Council's rating is only 47% and dropping. Defending our police department should be an easy task. But when a small, committed minority is this entrenched in city government, it will take a serious fight to keep it the way we want it. We must protect Culver City Police Department. They're protecting us.