ACTION ALERT
June 23rd 7pm via Webex
Council to discuss ending "exclusionary zoning"
– meaning single family (R1) zoning –
throughout the entire city.
This could allow massive developments anywhere in the city
Stay tuned to this page for events and action alerts related to this meeting. We may have our own in-person meeting, so those without computers may attend and speak up.
The city has put out a "Land Use Alternatives" survey.
Answers due by 11:59pm June 12th – details below.
An online petition is also being circulated to tell council not to end single family zoning.
At Council's meeting May 10th, a number of activists spoke before the meeting demanding the city agendize "ending exclusionary zoning." Council assented, and is planning a joint meeting with the Planning Commission.
"Exclusionary zoning" is a euphemism which means Single Family zoning. It is based on the controversial take that single family homes are rooted in racism and are meant to keep minorities out of neighborhoods.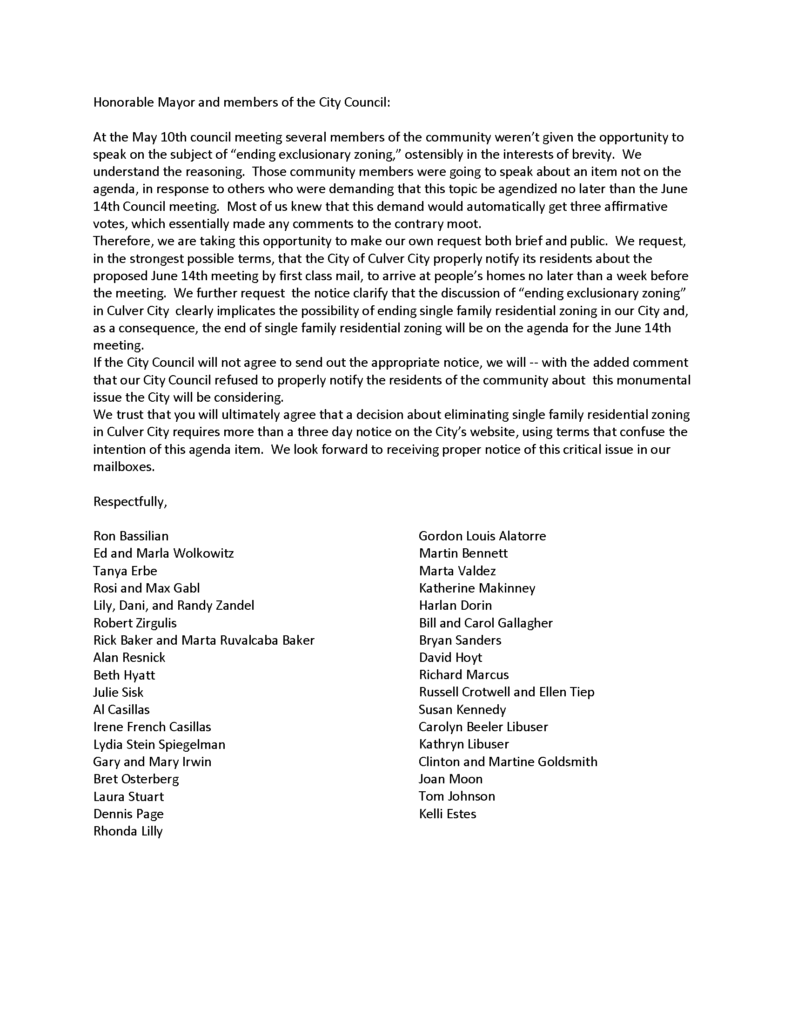 This means Council will be debating whether to end Single Family zoning on June 23rd.
A number of us put forth the demand that the city put out adequate notice by mail to all Culver City residents regarding such a critical change in city zoning. So far they have refused. As promised, we are doing their job for them.
The city has published a "Land Use Alternatives" survey. to their online audience. No proof of residence or identity is required to answer this survey. It asks whether you agree with such statemtents as the following, which hide their true intention:
"small developments across the city are preferable to very large developments in a few places." This is asking whether you want to upzone the entire city or just along transit corridors.
"Incremental infill is a good strategy to accommodate new housing in Culver City." – meaning, do you think any plot in Culver City should be able to hold up to four condos?
Incremental densification would allow up to six units on any plot.
SB9 and SB10 are now in the California legislature. SB10 would allow up to TEN condos on any plot of land. Our council would abide by these statewide regulations.
It asks whether you want affordable housing – which sounds good, but we have no idea what "Implement the Vision and Guiding Principles" or what loopholes it contains. The devil is always in the details.