ACTION ALERT
April 12th 7pm via Webex – Council to continue dicussion on housing resolution
This could allow massive developments anywhere in the city
"I think upzoning everything will bring in some unintended consequences. I think developers will come in, buy everything up, build on it, make their money and leave. Ultimately I don't think that benefits Culver City."

– Councilman Albert Vera, Jr.
This resolution will be item A-2 at Monday's Council meeting. Five ways to make yourself heard:
Register to speak at the April 12th council meeting. Ask to speak on item A-2 on this resolution.
Call the City Clerk at 310-253-5851, and either submit your comment over the phone, or have them walk you through filing a comment.
File an eComment online on this item. Find item A-2 and click on the eComment button on the top right of the item. You will need to register if you are commenting for the first time.
Contact the councilmembers. Let them know how you feel. They are generally responsive.
E-mail public.comment@culvercity.org and refer to item A-2.
Both Vera and Eriksson have raised grave concerns that this will allow developers to build "stack and pack projects in any neighborhood in Culver City. Council has been very vague about what this resolution means. Here's what we do know:
It seeks to accomplish statewide "RHNA" mandates for housing with "equitable" development. Councilmembers have made clear this allows development anywhere in the city.
Eriksson has called the RHNA mandade "pie in the sky." – an unattainable mandate.
It has a minimum "30 units per acre" requirement. A traditional multifamily building is about 25 units per acre.
Few residents know about this resolution, and even Councilmembers Vera and Eriksson are unclear what it means.
Councilmembers Fisch, Lee and McMorrin have called single family zoning outdated and racist.
Council's resolution on housing policy at their March 22nd meeting raised some concerning questions. Neither the public, nor councilmembers Vera and Eriksson, had access to this resolution until three days before the meeting. Fortunately, Council tabled a vote on this resolution until April 12th, in the interest of not debating past midnight. But our worst suspicions were unfortunately confirmed. This resolution would green-light the entire city to be rezoned and redeveloped.
The resolution itself does not eliminate single family zoning outright. But it gets around such an obvious statement with a number of loopholes. Of particular concern is this "minimum 30 units per acre" stipulation. The other is the resolution for "equitable" distribution of new housing. Council has made clear this means none of our neighborhoods are exempt from upzoning. This combines with the state's RHNA goals for new housing – an unrealistic 3000 new units for Culver City over the next decade. This leaves our city playing eternal catchup with an unattainable goal, allowing developers to build whatever they want, whatever they want. No exemptions.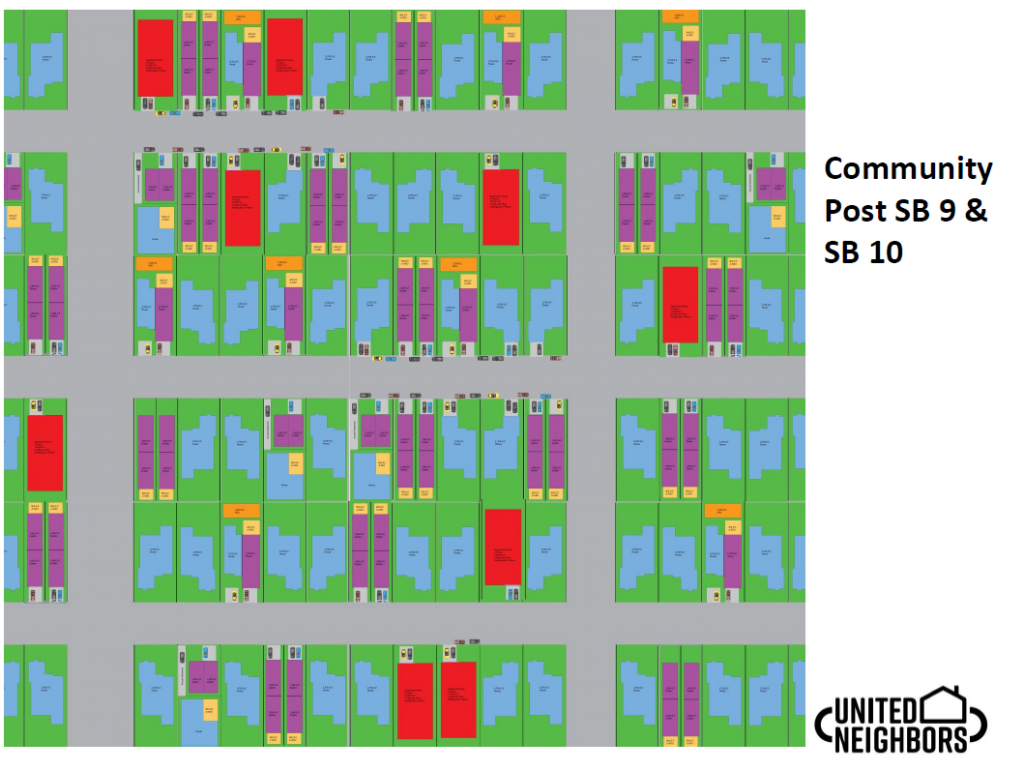 In defense of this resolution, councilmembers Lee and Fisch pointed to Culver City's current charming multifamily buildings. This is misleading. Those were built decades ago – these simply would not be built today. Our new rent control ordinance is actually driving many of these off the market. In their place go 3-4 story condo projects which rent out for 2-3x the price, if they rent out at all.
In the end, this resolution only muddies the waters – and did not give us the time to truly understand it. If we are to upzone the entire city, we must do so deliberately, and with clarity. We need more time, and more outreach to city residents. Let people agree to it now, and not find out two years down the line, when their neighbor gets torn down for a three story condo project.
"We know the legacy and intentionality of single family zoning is intentionally racist." – Councilwoman Yasmine Imani-McMorrin
"RHNA numbers are pie in the sky… We need to look at this from a realistic perspective… I will hate to see that we sold half the town to Wall Street investors who just rent everything out." – Councilman Eriksson
"A lot of people in Cuvler City are owners because of a legacy of racism. They're white people." – Vice-Mayor Lee
"I fervently believe that the future of cities is denser more affordable and more desireable… single family isn't racial exclusion explicitly but it's class exclusion… and class segregation is racial segregation." – Mayor Fisch